Prepare for Moving Day on Aruba
April 7, 2021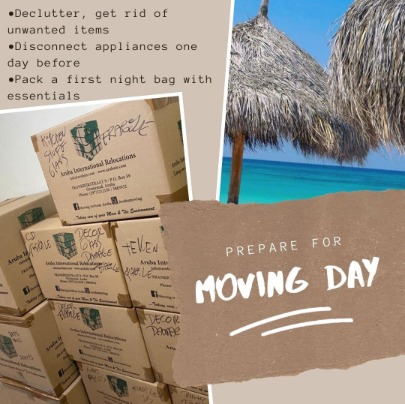 Moving is listed as one of the top stressful situations that a person can experience, but you can plan ahead to make the process as smooth as possible.
Divide the tasks into 4 stages:
𝟯 𝗺𝗼𝗻𝘁𝗵𝘀 𝗯𝗲𝗳𝗼𝗿𝗲, 𝟮 𝘄𝗲𝗲𝗸𝘀 𝗯𝗲𝗳𝗼𝗿𝗲, 𝟭 𝗱𝗮𝘆 𝗯𝗲𝗳𝗼𝗿𝗲, 𝗮𝗻𝗱 𝗺𝗼𝘃𝗶𝗻𝗴 𝗱𝗮𝘆.
If you decide to hire a moving company to help you, remember to check references, testimonials, and reviews, before you chose one.
Movers get booked months in advance, so make sure to reserve your date on time (we would love to help you).
𝟯 𝗺𝗼𝗻𝘁𝗵𝘀 𝗯𝗲𝗳𝗼𝗿𝗲 𝘁𝗵𝗲 𝗺𝗼𝘃𝗲:
•Get rid of your clutter and get organized
•Have a yard/garage sale
•Donate, sell or throw out things you don't need/want
•If you are renting, send a written notice to your landlord
•Make any necessary arrangements if you need to travel; book flights, reserve hotel rooms, or temporary housing.
•Request all records on prescriptions, doctors, dentists, school transcripts, employment, veterinary, etc.
•Get copies of your vehicle/motorcycle registration or tax payment and insurance, to ship your vehicles from Aruba to a new country
•Get your Tax ID/Persoonsnummer (Copy of carton where it is written)
𝟮 𝘄𝗲𝗲𝗸𝘀 𝗯𝗲𝗳𝗼𝗿𝗲 𝘁𝗵𝗲 𝗺𝗼𝘃𝗲:
•If you are exporting shell/conch or corals, get the CITES license, Convention of International Trade in Endangered Species/ for more information call (297) 585-8102 or info@santarosa.aw Santa Rosa Aruba
•Don't buy groceries, go through your freezer, fridge, and pantry and finish off stored foods.
•Prepare to have your refrigerator empty to disconnected 1 day before the move
•Take pictures of the back of the TV/music/ game consoles/ etc so you remember where all the cables should be connected.
•Collect tax documents, home sale/buying documents, employment records, school documents, and doctors records, keep them together in a separate box.
•For exports / moving from Aruba to another country, complete the form to activate the TAX ID in the customs system (contact us for more info)
𝟭 𝗗𝗮𝘆 𝗯𝗲𝗳𝗼𝗿𝗲 𝘁𝗵𝗲 𝗺𝗼𝘃𝗲:
•Disconnect all electronics, appliances, including the refrigerator
•Detach lamps, curtains, paintings, or anything attached to walls inside/outside the house.
•Prepare a cooler with water and snacks
•Pack the overnight bag/kit with the essentials for the first day after the move: medicine, toiletries, clothes, pet food mobile phone, laptop, tablet, and chargers.
𝗠𝗼𝘃𝗶𝗻𝗴 𝗱𝗮𝘆:
•On Aruba, the wind is very strong, if you have glass doors, and they have to be open during the move, please secure them to keep them from slamming and breaking.
•Wear comfortable clothes with enough pockets to keep any markers, stickers, and tape on hand, if you have an apron, even better.
•Keep boxes 25 kgs or less by packing heavy items in small boxes (books, documents, etc) and light items in big boxes (toys, pillows, etc). This will help your back and prevent the box from breaking.
•Have a person directing the crew to which room every box and furniture goes, this will save you extra work after the move.
•Walk through the house to check that nothing is left behind.