Schools and Universities on Aruba
November 19, 2020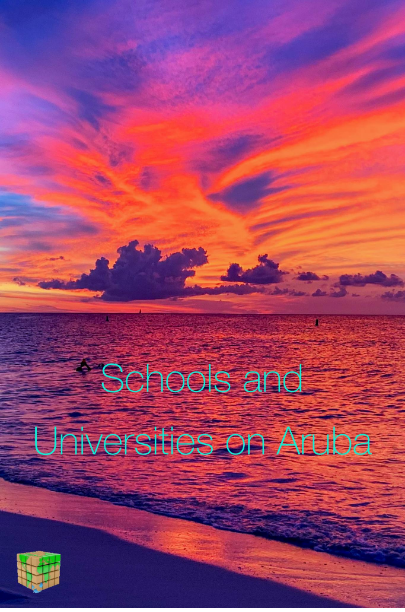 Detailed information on Schools 
Linked to our Dutch heritage, Aruba's educational system is administered by the Aruban Ministry of Education and requires the high standards maintained by educational institutions in the Netherlands.

The literacy rate is 97 % Aruba has one of the highest levels of education in the Caribbean.
Schools instruction is in the official Dutch language, lower grades are taught in Papiamento, the local language and gradually they add English and Spanish

Kindergarten begins at the age of 4
Primary education beginning at 6 years of age a 6- year period
Secondary education beginning at age 12, a 5-year period.

Basic professional, technical and vocational education institutions of higher learning includes community colleges and 3 universities.

Pre-school Basic and Secondary schools on Aruba
Most schools for primary and secondary education are public, with exception of: De Schakel and International School of Aruba.
De Schakel primary school opened In October 1994 for children aged 4 to 12; the founders envisioned a Dutch-language school. In 2007 the primary school was expanded with "Prikichi" for pre-school education and in 2008 De Schakel College was established for mavo, havo and vwo. The Schakel College has been offering an enhanced English program in the upper years for years that can be concluded with Cambridge exams.
Approximately 430 students attend to De Schakel every year.
Address: Boegoeroei 7B / Telephone: +297 5871583 / Email: info@schakelaruba.com


The International School of Aruba was open in September 1929. ISA provides instruction in English for students from Montessori, pre-kindergarten through grade 12. Comprising over 18 nationalities; the largest group of nationalities come from the Netherlands, Aruba, Venezuela, United States, Canada, and India. The International School of Aruba has approximately 200 students
The school follows a general academic, college preparatory, U.S. public school curriculum, and it is accredited by the Southern Association of Colleges and Schools.
Address: Wayaca 238A / Tel: +297-583-5040/ Email: info@isaruba.com

Foundation Catholic Education Aruba (SKOA) was established on January 1, 1971 to provide Roman Catholic education on Aruba. They are responsible for most of the public schools on Aruba
Address: Copernicusstraat 11/ Tel+297 5231800 / E-Mail: info@skoa.aw

Mon Plaisir schools are the Aruban Protestant Christian Multilingual schools. Mon Plaisir schools, basic and secondary, are first and foremost open to Protestant Christian children and also to all who respect our faith and customs.
A SAM school "Scol Arubiano Multilingual", means that the primary language of instruction is Dutch, but in all classes, especially in the lower years, Papiamento, Spanish and English.
Mon Plaisir College is a secondary school. The training lasts 4 years and is divided into a general part, the" Ciclo Basico" of two years and the second part, the "Ciclo Avansa", grades 3 and 4.

Shakespearestraat / Tel: 5822839 / msno@monplaisircollege.org

Colegio Arubano was founded in 1959 by the Foundation for Secondary Education Aruba (SMOA), which in turn was established by the Diocese of Curaçao. At the time it became a five-year Roman Catholic high school.
It is a secondary school on Aruba that serves students in grades seven through twelve
Measured in: "Ciclo Basico" as equivalents to seventh and eighth grades.
VWO is a four-year program. HAVO is a three-year program, as equivalents to American high school grades nine through twelve.
Colegio Arubano has two campuses: Oranjestad and San Nicolaas.
Address: Vondellaan 14 / Tel: +297 – 5822005

Email: info@colegioarubano.aw / ciclobasico@colegioarubano.aw

Vocational Education Institutes on Aruba
Students who are not academically orientated may opt for vocational training.
This is blended with employment periods and split into a lower and a higher level too.

Intermediate Professional Education EPI
EPI is secondary vocational education in Aruba and has existed since August 1, 1997. "Colegio EPI" is an innovative organization in the field of education and facilitation. Intermediate Professional Education EPI, offers education at levels 3 and 4 and consists of the following units: Unit Health and service, Unit Economy, Unit Hospitality & Tourism and Unit Science and technology.

Sero Blanco/ +2975258700 / epiaruba.com

IPA Instituto Pedagogico Arubano
Aruban Pedagogical Institute, founded in 1990, is a public training institute, at higher vocational education level, for teachers in nursery, primary and secondary education.
IPA is the first higher education institution on the island that meets the quality requirements of the Netherlands Flemish Accreditation Body. IPA is also part of the UniCarib partnership, which consists of the Universities of Aruba, Curaçao and St. Maarten.
Address: Isaac Wagemakerstraat 11 San Nicolas / +297-524 3100 / info@ipaaruba.com

Universidad di Aruba
The University of Aruba is a hub between Europe, the Caribbean and the Americas.
UA currently offers degree programs at the Faculties of Law; Accounting, Finance & Marketing; Hospitality, Tourism Management & International Studies; Arts & Science.
International students who would like to spend a semester or more studying at the University of Aruba are invited to apply.

Address: J. Irausquinplein 4 / Tel: + 297 526-2200 / Email: info@ua.aw

Private Medical Schools

Xavier University School of Medicine, (XUSOM) was founded in 2004 Xavier offers two programs; the Pre-med Program and the MD program
Pre-med program is designed for students right out of high school or applicants without the prerequisites needed for the for the 4 year MD program.

Address: Santa Helenastraat #23 / Tel:+297-588-7766 / admissions@xusom.com

Aureus University School of Medicine was founded in 2004 in Aruba , offers a 4-year and 5 year MD degree program. The 4 year MD program / 11 semester course of study that consists of three semesters per calendar year; the 5 year MD program includes an additional 3 semesters of pre-medical coursework.

Address: Wayaca 31C / Tel: +201-783-6623

Both are affiliated with universities and hospitals in America.

For other careers, most of Arubans choose to attend higher education institutions in the Netherlands, USA, Canada and Latin America

If you are moving to Aruba with youngsters, and need further information on schools and universities, let us in the comments