Best movers reviews in Aruba
"Thanks for the efficient and pleasant way of organizing my relocation!
It was a relief to see the paper work being settled smoothly, everything by email.
Your team packed my stuff swiftly and carefully. I highly recommend AIR to my friends and expat colleagues."
Leo de Haan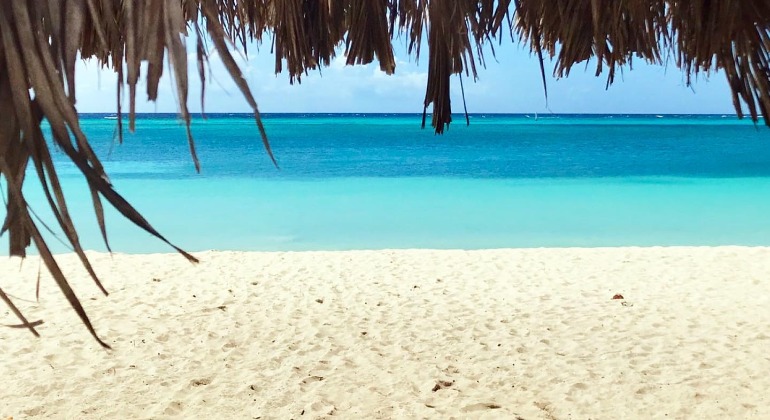 As a client of Aruba International Relocation services, we experienced professional and friendly interactions with their employees. They were knowledgeable and skilled in their craft. The services with clearing our goods through customs was smooth. They were timely both in the correspondences and with the offloading of our belongings on site. As a family, we are thankful to the whole AIR team for making us feel welcome in Aruba and taking care of what could have been a very difficult process for us.

Masha Danki,
Family Busari.
We used Aruba International Relocations as our local agent when my husband was transferred to Aruba.
Communication from abroad was easy with prompt responses to any questions I had.
All necessary paperwork was done in a timely manner and our two shipments were cleared without any problems.
The movers unloading our containers were courteous, professional, efficient, and extremely helpful.
Thank you to Wilfredy and Jose's team for a smooth and excellent moving experience.


Monique and Martijn
We were very grateful with the service received from AIR. They did a marvelous job with packing our household items that would be shipped from Aruba to the Netherlands. we recommend them highly to anyone needing help with relocating from Aruba to another country! Thanks to you all at Aruba International Relocations!!

"We used AIR for our relocation from Aruba to Ecuador.
I would highly recommend this company to anyone needing to relocate.
They are professional,prompt and friendly.
They answered all inquiries quickly and accurately and there price was good.
I can say that I hired a company but also can call Randall a friend."

Craig Chilton Director of Finance
– Marriott's Aruba Surf Club


"I have moved numerous times with my employer, and I have worked with multiple moving companies.
Aruba International Relocations provided my best moving experience to this point in my career. The moving team packed my belongings very quickly. While they were highly efficient, they exercised care with each item, making sure it was appropriately wrapped to avoid damage. Thank you AIR for making my move easier than ever before."
Mattijs Meijer
- Dreams On Wheels
I want to thank all of you at Aruba International Relocation for helping us to start our dreams on Aruba!
Desiree send me pictures of the beetles and the van and I am so happy that they are finally at our house.

I cant wait to arrive back on Aruba and when I do I make sure to come visit you to thank you in person!


We Respect your Privacy
The pre-move and packing went smoothly. Very Professional in every step.
All members of the packing crew worked expeditiously and with great professionalism.
I felt like they treated my belongings with care as if they were their own. I'm very pleased with their work.
Thank you and the crew for being helpful and courteous during this stressful time for me.
Yes, you may use my comments on your site, but I ask that you keep my name anonymous.

"I was very nervous about a move so far from home. We used AIR for our relocation from Connecticut to Aruba. I would highly recommend this company to anyone needing to relocate. They are professional, prompt and friendly. The staff in the office answered all inquiries quickly and accurately and the price was good. The delivery staff was very good, they were fast getting right to work, to get it done.We are almost set up in our home in Aruba, in a few days, Thank you AIR for making it some easy."


"Your team arrived right on time and ready to work. They reviewed what needed to be packed and went to work. They had plenty of packing material for packing. They were friendly toward us and to each other. I highly recommend them and would use them again. Thank you for sending them to us."
"Big Shout Out to AIR for doing such an amazing job!
Picking up your whole life after 8 years to move on to a new adventure and seeing everything packed and moved is certainly not easy, but these guys were like family and made the transition as smooth as can be. Many, many thanks!"
"Quería agradecerte el excelente servicio prestado por ustedes en el día de hoy.
Todos los muchachos muy decentes educados y respetuosos además de colaboradores.
El inspector de aduana también muy amable.
Y tú por supuesto también.Clase aparte.
Nuevamente muy agradecida por todo.
Quedé altamente satisfecha con el servicio y la atención recibida.
Muchos cariños"
De verhuizingen, vanuit Nederland naar Aruba en weer terug, werden aan de Arubaanse kant verzorgd door AIR. Onze ervaringen met dit bedrijf zijn positief. De begeleiding vanuit AIR hebben wij als prettig ervaren en de verhuizingen werden uitgevoerd met gepaste zorg en de nodige flexibiliteit.


"Mijn inboedel is netjes en zonder schade geleverd!
Het verhuisbedrijf die het van jullie heeft overgenomen heeft mij goed geholpen met alles.
Ik ben zeer tevreden over jullie!"
Jacqueline van Der Lind

"The crew did a great job, very though and professional and fast.
Your work and coordination were also just a great experience and it's been nice working with you.
I will definitely have you guys move any of our other staff when the time comes.
Thanks!"

Lee Grawcock


"The movers from Aruba International showed up on time and were professional and efficient. I was so pleased with how easy and stress-free moving day was with their handling of our boxes with care. These workers were courteous, friendly and so helpful. I would highly recommend Aruba International for all of your moving needs. Sincerely,"
Marlene DeWolfe


Dr. Peter Audette
Paradera, Aruba 

This is to give testimony on behalf of Aruba International Relocations and Storage (AIR). When I moved to Aruba from my Massachusetts, USA home, my local agent assigned us to AIR. It turned out to be the best part of the moving "ordeal"!

An International move is no "cakewalk" but Randall Beaujon and the "Team" at AIR made the whole experience almost pleasant. They kept us informed of the tracking of the container and exact arrival time.

Unexpectedly our new home was NOT ready when the 1st of three containers of household goods arrived at dockside. My wife and I panicked, but AIR quickly and efficiently arranged to hold our goods in temporary storage to avoid much more expensive dock storage fees. We were very concerned about loss and damage in storage but everything arrived without a scratch.

Procedures and paperwork to clear Aruba Customs can be frustrating and seemingly endless, but AIR held our hand and guided us through without a hitch. It is very intimidating to deal with foreign officials without good language skills, but AIR was right there all the time to support us.

The transfer of furniture and goods from storage to our new home was timely and efficient. They were here when they said they would be. The workers were friendly,courteous, patient and helpful in the placement and unpacking of our goods. We had a "mountain" of packing material which they removed with no question and even returned another day to remove more.

The service and performance of Aruba International Relocations and Storage was a triple "A" experience for us and I highly recommend their service without reservation.